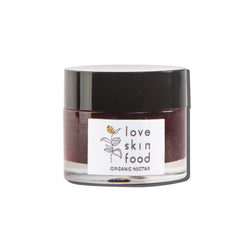 Love Skin Food
ORGANIC SUPERFOODS & HONEY SCRUB 30ml
Raw organic honey works to sooth and speed up your skin cells healing process.
While superfoods helps to provide complex nutrition for your skin and it's filled with antioxidants.
100% EDIBLE INGREDIENTS
Net. 30 ml
LSF ritual: Gentle exfoliation. 
For peeling - apply on the wet skin, massage with circular motions into the face, neck and décolleté. Wash off with lukewarm water. 
For mask - leave it for 15-20 minutes to get the instant glow effect and immediate oxygenation. 
2 in 1: Superfoods and BIO honey - mask and peeling, comprehensively care for your skin.
The composition of superfoods from chokeberry, blackcurrant and wild rose, as well as dried herbs and flowers give matte skin a healthy, radiant glow. A wealth of microelements, antioxidants, bioflavonoids and vitamins C, B2, B3, B9, A, E, K, leave your skin nourished. Organic meadow honey has a calming and antiseptic effect.
Organic Superfoods & Honey Scrub is a delicious "feast" for your skin.
ORGANIC SUPERFOODS & HONEY SCRUB
ingredients
Mel
Sambucus Nigra flower
Ribes Nigrum superfoods
Fera Rosa superfoods
Hibiscum superfoods
Aronia Melanocarpa superfoods
Punica Granatum seed oil