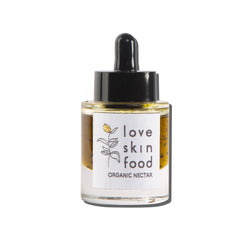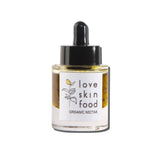 Love Skin Food
ORGANIC GREEN DETOX NECTAR 30ml
A detox oil treatment that is a great anti pollution beauty product. Helps your skin to restore oil balance. Protects your skin from free radicals. Prepared with natural antioxidants, helps to maintain healthy and clear skin.
100% EDIBLE INGREDIENTS
Net. 30 ml
LSF ritual: Spread Organic Nectar over the face with circular upward motions. Also massage it into the neck and décolleté. One pump is the perfect amount. Use Face Mist before applying Nectar to maximise its benefits. By applying Nectar to very moist skin, it spreads evenly and is effectively absorbed.
This Nectar effectively cleanses the skin and, thanks to the ingredients at the same time cares for it. Providing natural vitamins and microelements, such as omega-3 and 6 acids, vitamins A, E, B, C, K, antioxidants, proteins, amino acids, carotene, phytosterols, phospholipids. Horsetail restores the skin lipid balance, as well as the antibacterial properties of sage, in combination with the skin moisturizing kale extract cleanses the skin without damaging its natural protective barrier. Thanks to the powerful properties of vegetables (kale, broccoli, parsley), herbs and flowers released during the maceration process into hemp oil, this Nectar allows the skin to maintain balance and provides a healthy appearance and glow.
Nectar is edible. Take a drop on your tongue.
ORGANIC GREEN DETOX NECTAR
ingredients
Cannabis Sativa seed oil
Rosmarinus Officinalis
Salvia Officinalis
Thymus Vulgaris
Origanum Vulgare
Urtica Dioica
Carum Petroselinum
Spinacia Oleracea
Camellia Sinensis
Achillea Millefolium
Mentha Piperita
Ocimum Basilicum
Sideritis
Brassica Oleracea Acephala/Sabellica leaf powder
Brassica Oleracea Italica leaf powder
Spirulina Platensis powder
Urtica Dioica root
Perilla Ocymoides
Cannabis Sativa leaf
Silybum Marianum
Juglans Regia
Ribwort Plantain
Azadirachta Indica leaf
Tropaeolum