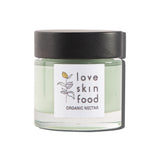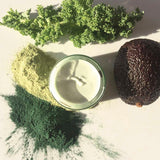 Love Skin Food
ORGANIC AVOCADO BODY BUTTER (WITH GREEN SPIRULINA) 100ml
Super hydrating, firming body Butter transforms the skin for a tighter, more sculpted and smooth look.
Recommended for dry, cracked and dull skin.
100% EDIBLE INGREDIENTS
Net. 100 ml
LSF ritual: Use our Body Butter on wet skin. The butter will be perfectly absorbed and its ingredients will sink deeper into the skin. When your skin is very dehydrated you can apply it overnight as a mask on your face and décolletage.
Our super moisturising green body butter has an avocado base. It contains vitamins A, C, E, B9, PP, K and minerals, nourish the skin, to minimize the appearance of stretch marks. In addition, the properties of our Organic Avocado Body Butter are enhanced by nutrient-saturated macerates of herbs and flowers, as well as vitamin C rich in rosehip oil to leave your skin firm. Known for its amazing skin softening properties, castor oil ensures skin softness. Complemented by green spirulina, which protects the skin against free radicals and other toxins that cause premature signs of ageing. Thanks to the high content of vitamins A, B-12 and E, spirulina improves skin elasticity, leaving it smooth, moisturised and radiant.
Organic Avocado Body Butter visibly delays the ageing process and perfectly nourishes your skin.
ORGANIC AVOCADO BODY BUTTER
ingredients