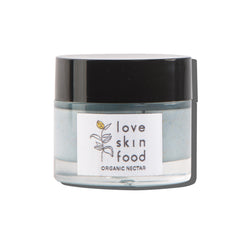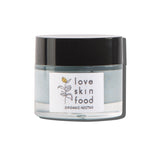 Love Skin Food
ORGANIC BEAUTY AGEING GOLD 24K FACE BUTTER (WITH BLUE SPIRULINA) 30ml
This skin transforming treatment that works well as a super moisturising butter and as night mask. Enhanced with pure Gold 24K leaves the skin tightened and plumped.
Blue Spirulina decreases inflammation, tones the skin and encourages cell turnover to promote a more youthful-looking complexion.
100% EDIBLE INGREDIENTS
Net. 30 ml
LSF ritual: Use it as an overnight mask. Apply layer of the GOLD 24K Face Butter on damp skin on the face, neck, and decollete. Our butter can be used as a day cream for very dry skin type.
Face butter with blue spirulina and 24K pure gold particles our ultimate wrinkle remedy. It is a composition of deeply nourishing ingredients that immediately give matte skin a healthy glow. Used as a night mask, will leave the skin firm and plump. In a daily care ritual as face butter, will effectively minimize the look of severe wrinkles.
Avocado butter, as well as natural vegetable oils and blue spirulina, create a composition rich in vitamins A, B, C, D, E, K and minerals. This unique blend of ingredients has been refined with 24K pure gold particles that stimulate collagen growth and cell regeneration
Organic Beauty Aging Gold 24k Face Butter visibly delays the ageing process and perfectly nourishes your skin.
ORGANIC BEAUTY AGEING GOLD 24K FACE BUTTER
ingredients