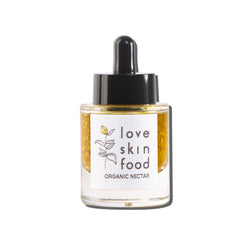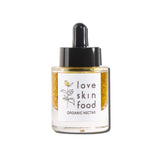 Love Skin Food
ORGANIC BEAUTY AGEING GOLD 24K NECTAR 30ml
Effective Nectar that helps to prevent and minimize signs of ageing. A combination of powerful plants, herbs and flowers that visibly enhance your skin for rejuvenated and healthier appearance.
Recommended for the first signs of ageing, fine lines and wrinkles.
100% EDIBLE INGREDIENTS
Net. 30 ml
LSF ritual: Spread Organic Nectar over the face with circular upward motions. Also massage it into the neck and décolleté. One pump is the perfect amount. Use Face Mist before applying Nectar to maximise its benefits. By applying Nectar to very moist skin, it spreads evenly and is effectively absorbed.
This Nectar is a completely natural youth elixir. It is a real vitamin and nutritional bomb for the skin, created from a carefully selected composition of flowers and herbs that have undergone a long maceration process in hemp oil rich in care ingredients. The nutritional and rejuvenating properties extracted during this process, allow you to effectively eliminate the signs of ageing, also to protect the skin from their occurrence. Catechins released into hemp oil from green tea leaves helps to remove free radicals, and the substances contained in the Asian pennywort stimulate collagen production.
The properties of LSF Beauty Ageing Nectar are enhanced by 24K pure gold particles that stimulate collagen growth and regeneration. As well pure gold activates dermis cells, which increases its elasticity and reduces wrinkles and discoloration.
Nectar is edible. Take a drop on your tongue.
ORGANIC BEAUTY AGEING GOLD 24K NECTAR
ingredients
Cannabis Sativa seed oil
Gold 24K
Cannabis Sativa leaf
Trifolium Pratense flower
Trifolium Repens flower
Opuntia Ficus Indica flower
Viola Tricolor flower
Sambucus Nigra flower
Foeniculum Vulgare
Flos Malvae Arboreae flower
Rosa Damascena flower
Rosa Canina
Bellis Perennis flower
Clitoria Ternatea flower
Acmella Oleracea
White Dead-nettle
Taraxacum Officinale
Helianthus Annuus 
Origanum Vulgare
Helichrysum Arenarium flower
Urtica Dioica root
Curcuma Longa root
Fragaria Vesca leaf
Rubus Idaeus leaf
Calendula Officinalis flower
Centaurea Cyanus flower
Lepidum Peruvianum
Centaurea Cyanus flower
Centella Asiatica leaf