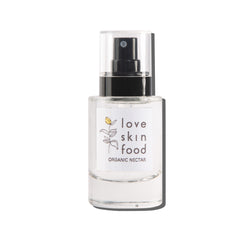 Love Skin Food
ORGANIC LAVENDER FACE MIST 50ml
Lavender Hydrosol is 100% pure. It is a product derived from the organic lavender plant. It helps to provide extra hydration and moisture to dry skin. Use on your skin before applying any other product.
Ideal for all skin types, a must have in your beauty routine.
100% EDIBLE INGREDIENTS
Net. 50 ml
LSF ritual: Spray on your skin before applying  any other product. A few sprays of the Face Mist will hydrate your skin and provide with vitamins and minerals. The mist is suitable for all skin types and is essential in every Beauty routine. 
Lavender essence is perfect as a delicate face tonic. It also helps to soothe irritations, moisturizes the skin, leaving it smooth and radiant. The lavender aroma calms and provides relaxation for the whole body.
Our face mist will instantly refresh, soothe and bring relief. It is the basis of daily care rituals and enables oil-based products to deeply penetrate and nourish the skin.
Face Mist is an effective preparation for Love Skin Food Nectars and Love Skin Food Butters for the dermis.
ORGANIC LAVENDER FACE MIST
ingredients
Lavendula Angustifolia
Aqua