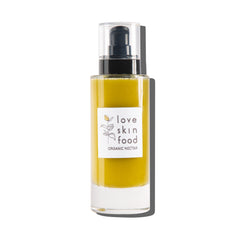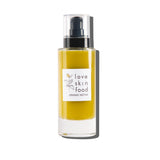 Love Skin Food
ORGANIC GREEN DETOX FACE & BODY WASH 100ml
Effectively and gently removes makeup, leaving skin moisturized and radiant. Ideal as a super hydrating body wash. Prepared with natural antioxidants, helps to maintain healthy and clear skin.
Recommend for all skin types.
100% EDIBLE INGREDIENTS
Net. 100 ml
LSF ritual: Pump a few times on your palm, then apply by massaging onto the damp skin of the face, neck, and décolleté area. Leave it to absorb for 1-2 minutes. We recommend using it as Body Wash to get soft and smooth skin.
Our Organic Green Detox emulsion is a natural probiotic for the skin. The chestnut ferment extract based cleanser thoroughly cleanses the skin without affecting its natural protective layer. In addition, it helps to balance the skin microbiome.
Made with our signature "M3D" macerate, based on hemp oil, Organic Green Detox gently and thoroughly removes makeup, leaving the skin moisturized and nourished.
You can use it as a morning cleanser for a fresh start or as evening care treatment, the emulsion prepares the skin for night regeneration, leaving it clean and fresh, yet flexible and soft.
Organic Green Detox Face & Body Wash is a real chestnut probiotic that balances the pH level of your skin.
ORGANIC GREEN DETOX MAKEUP REMOVAL & BODY WASH
ingredients