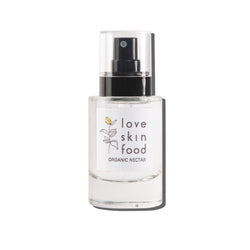 Love Skin Food
ORGANIC HERB FACE MIST 50ml
Herb Hydrosol is 100% pure. It is a product made of oregano, sage, thyme, mint and bay leaves has strong antibacterial, antifungal and antiviral properties. Oregano is an excellent natural purifier. The antioxidants in sage increase blood circulation in the skin and aid in cell renewal. Thyme has a rejuvenating and soothing effect, and bay leaf and mint will calm and moisturize your skin.
Ideal for all skin types, a must have in your beauty routine.
100% EDIBLE INGREDIENTS
Net. 50 ml
LSF ritual: Spray on your skin before applying  any other product. A few sprays of the Face Mist will hydrate your skin and provide with vitamins and minerals. The mist is suitable for all skin types and is essential in every Beauty routine. 
The herbal essence is perfect as a face tonic that regulates the production of sebum. It soothes and moisturises the skin, leaving it nourished and radiant. The herbal hydrosol soothes and has an antibacterial effect on the skin, protecting it against pollution.
Our face mist will instantly refresh, soothe and bring relief. It is the basis of daily care rituals and enables oil-based products to deeply penetrate and nourish the skin.
Face Mist is an effective preparation for Love Skin Food Nectars and Love Skin Food Butters for the dermis.
ORGANIC HERB FACE MIST
ingredients
Origanum Vulgare
Salvia Officinalis
Thymus Vulgaris
Mentha
Laurus Nobilis
Aqua